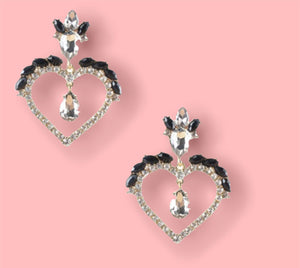 No Princess Here, All Queen ....
Step into the role your born to be, Nope not a princess, all Queen, you won't have to worry about being outshined  wearing our Heart Queen Earrings. These oversized heart-shaped beauties are the ultimate attention-grabbers in whatever you wear them with. Fabulous black and clear rhinestone.

DETAILS:
cute zinc drop earrings.
SIZE:

2 X 2.5"